Hotel Facilities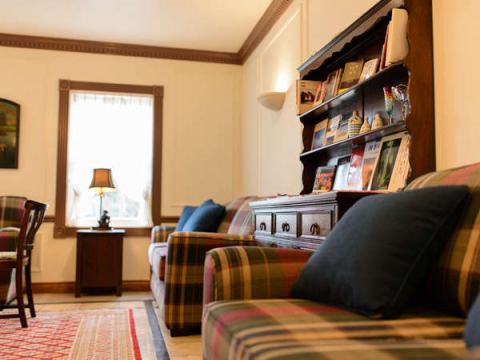 Feel free to spend your time.
The hotel has 2 floors but does not have an elevator.
Thank you for your understanding.
entrance

A bright lobby with a comfortable atrium.
I use a fireplace in winter.
Relax on the spacious sofa.

【Second floor】lobby

Interiors such as sofas are also available in the lobby.
You can relax not only in your room but also in various places in the facility.

Rose Garden

English Rose Garden is about 5 minutes drive from the hotel.
More than 100 kinds of beautiful roses are in full bloom in the garden of about 1,500 tsubo, which will delight the eyes of visitors.
Enjoy a relaxing time surrounded by a gorgeous scent.

| | |
| --- | --- |
| Best time to see | Mid-May to mid-June |
Number of rooms

16 rooms in total:16 Western-style rooms/Other 3 rooms
Western-style translation:2 double rooms(21 to 21㎡)/Twin 9 rooms(24 to 24㎡)

Room supplement

2 deluxe twin rooms/Force 1 room
*Please contact us for details

Standard room facilities

All rooms bath and toilet/Shower in all rooms/Air conditioning in all rooms/TV set/Empty fridge

Internet related

All rooms are available
[Connection method]Wifi
[PC rental]No
[Internet connection]Free

Facility contents

Lounge/No-smoking room

Service & Leisure(Including arrangements)

Massage(Paid)/Bicycle rental

Credit cards available locally

JCB / Visa / Master/AMEX / UC / DC / NICOS / Diners/SAISON/UFJ

Standard check-in time

15:00

Standard check-out time

11:00

Supplementary information about amenities

A large Made by Simmons bed and POLA amenities (shampoo / conditioner / body soap / liquid cleansing / cleansing wash / lotion / milky lotion) are provided.

Hot spring tax

Hot spring tax Adults 150 yen will be charged separately.

Cancellation provisions

7 to 4 days ago:20% of room rate
3 to 2 days ago:50% of room rate
1 days prior:80% of room rate
On the day of arrival:100% of room rate
Cancellation without any contact:100% of room rate
Please contact us as soon as possible for changes or cancellations.
*If there is a cancellation policy set for each accommodation plan, that will be given priority.

Size

Twin:24m² (1 to 2 people) / Double:21m² (1 to 2 people) / Deluxe Twin:29m² (2 to 3 people) / Force:48m²(From 3 to 4 people)

Capacity

Twin / double room:1 to 2 people / Deluxe Twin:2 to 3 people / force:3 to 4 people

Bed width

Twin:Semi-double x 2(Width 120 cm x length 195 cm)
Double:Double bed x 1(Width 180 cm x length 195 cm)
Deluxe Twin:2 queen beds(Width 160 cm x length 195 cm)
force:4 queen beds(Width 160 cm x length 195 cm)

Amenities

Hand towel / Bath towel / Shampoo / Conditioner / Body soap / Shower cap / Toothbrush / Toothbrush powder / Cotton stick / Body towel / Hairbrush / Dryer / Hot water wash toilet / Duvet / Slippers / Men only (shaving / Yukata) / Women only(Face pack/cotton/Yukata)

Common facilities for all rooms:Simmons Bed

Sleep soundly and get well from the morning.
We offer Made by Simmons Co., Ltd. beds for quality sleep and awakening.
The bedding is made of 100% cotton and is comfortable to the touch.
Hot Springs

Yufuin Onsen (100% natural hot spring)*Does not include artificial hot springs

Open Air Bath

Yes (both men and women (including time change), cannot be reserved)

Private Bath

Yes(There are conditions)

Number of baths

[Open-air bath]Man:2 woman:2 mixed bathing:0
[Indoor bath]Man:1 woman:1 Mixed bathing:0
[sauna]Man:0 woman:0 mixed bathing:0

Hot Spring Qualities

Alkaline simple spring with ph7.5

Efficacy

Neuralgia / Muscle pain / Joint pain / Frozen shoulders / Stiff joints / Bruise / Kujiki / Cold sensitivity / Post-illness recovery period / Health promotion, etc.

Hot spring facilities

Open-air bath/Indoor bath*1 each for men and women
3 private open-air baths

Open Hours

6:00 to 10:00 / 15:00 to 23:00

Amenities

shampoo/conditioner/Body Soap(We have the same room as the guest room)